Notice – due the the "political and regulatory climate", Petersen International will stop selling Short Term Medical plans as of 2/28/2018. In force policies are unaffected.
Petersen International Short Term Medical
For an overview on choosing the right Short Term plan, visit our Short Term page.
Selected Points/Features (see policy for complete list and full details)
Plan does not cover preventive care.
Plan does not cover pre-existing conditions. (Conditions a prudent person would have treated in the prior 12 months.)
3 month maximum policy length. Initial pre-existing condition limitation is carried over to consecutive policies of 3, 3 and 2 months for a total of 11 months. New eligible conditions covered though the 11th month.

Two weeks before each 3 month policy expiration, you'll receive an email to re-apply and choose a new deductible.

Guaranteed Issue.
Major medical $1,000,000 of coverage
$100 through $5,000 deductibles
Coinsurance 100% after deductible in-network or out-of-network.
Network Providers: https://www.providerlocator.com/petersen.aspx
Rx – maximum coverage of $500
Optional Hazardous Sports or Activities Rider +25%. Make sure to review the list of Hazardous Sports or Activities in the brochure below, some are surprising.
Coverage effective as early as midnight
Not a PPACA qualified plan (penalties may apply)
NO Copays – all eligible charges apply to deductible.
NO Wellness, Maternity, Mental or Substance Abuse coverage
Make sure to carefully review the exclusions listed on the application.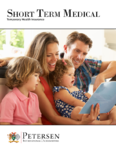 Short Term Major Medical 01-01-2017
This is not a legal document, see actual policies for specifics. The rates displayed are only an estimate of carrier's final rates, no guarantees of issuance implied.